About advertising
Advertising in the UK and Germany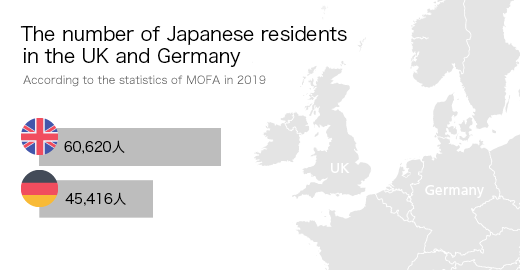 One-stop service for both countries
News Digest has offices in the UK and Germany and offers a variety of services based on each client's requirements. It is not important which branch you contact; our staff can assist you in developing your business either in one particular country or both countries depending on your needs.
Promote your business to Japanese tourists as well as residents in Europe
News Digest publishes its magazine twice a month and also manages a website and SNS (Facebook and Twitter) which offers quick and accessible local information for Japanese tourists as well as those living in Japan. It is updated every day and receives a great deal of interest from both home and abroad.
We also offer a design facility where our highly-qualified and dedicated staff can design and publish bespoke materials, be they leaflets, brochures or posters as well as designs for advertising. Should you require materials written in Japanese or would like a Japanese design, we are very happy to advise and assist you.
Eikoku News Digest
Advertising in the UK
Eikoku News Digest is a London based free magazine which is published every first and third Thursday of the month.
We mainly cover current affairs and life in Britain generally to Japanese residents in the UK and have been a bridge between the two communities for almost 30 years. Our circulation is 20,000, which makes us the largest distributed Japanese magazine in the UK. Our magazine covers one third of the Japanese community living the UK and nearly half of it through our website.
It also enjoys pride of place in the prestigious Nikkei News International: the leading Japanese Business newspaper, as a supplement. We deliver our magazine directly to many Japanese companies mainly based in London as well as to Japanese restaurants, supermarkets, schools and even some universities.
We can help you raise your business profile within the Japanese community through our SNS accounts and website. If you are interested in reaching the Japanese community in any way, please contact us to discuss what we can offer.
Display advertising (Printed magazine / eBook)
For a general advertisement placed in our magazine and eBook, we have various sizes available from display adverts arranged in 1/32 page to full page depending on your requirements, budget or targets. Design for artwork is also available on request.
Advertorial (Printed magazine / eBook / Online article)
If your service is too complicated to explain through a simple pictorial advertisement or you would like to raise awareness of your products/services, then advertorials would be ideal. The prices for advertorials include a placement article on our website as well as in the printed magazine and eBook. Interviews can also be arranged on request.
Web advertising (Online)
For those advertisers who are interested in targeting online users we can offer a flexible service that includes a variety of sizes and pages namely, web banners such as Super banner, Square banner, PR banner or Text banner depending on your requirements, your budget or targets. Those banners can be placed immediately after you have applied.
Classified advertising (Printed magazine / eBook / Online)
Classified advertisements are the most reasonable option among all the types of advertising we offer. It is categorized as Recruitment, Letting, Classes, Market and Others so you can choose whichever is suitable for your promotion. The advertisement also appears both on the website and in the printed magazine.
We have an optional service called 'Instant Web' on which you can place your advert online, immediately. There is also our 'Last Minute Application' service for those who have missed the deadline for our printed magazine but still want to place an advertisement.
Both of the 'Instant Web' and 'Last Minute Application' services are available for a small extra charge.
To place an order please visit Eikoku News Digest website for more information.
http://www.news-digest.co.uk/news/classified/apply/online-en.html